Don't miss out on the SAB special! For every $50 you purchase, you receive FREE SAB items!
I NEED ALL SAB ORDERS PLACED BY 10PM CST!!
Today - Monday, March 31st is the LAST day for the following:
1.
SAB!
- for every $50 you purchase you receive FREE SAB products! Have you received all the ones you wanted to earn for FREE??
2.

Best of 25 stamp sets!

These were sets that were brought out last year during SU!'s BIG 25th anniversary celebration! These are great sets!
3. Weekly Deals!
- These are weekly specials that SU! has. Tomorrow will be another week of specials! Don't miss out on the DSP, Card Stock, & Glimmer paper!
4.

Paper Pumpkin

- FREE 5 pack of 12-14 Markers when you subscribe for My Paper Pumpkin today! Great deal! These little kits come right to your door! Everything to make that kits projects are in there! Plus, you have color pictures and directions!
Great deal! Start & Stop your kits when you want!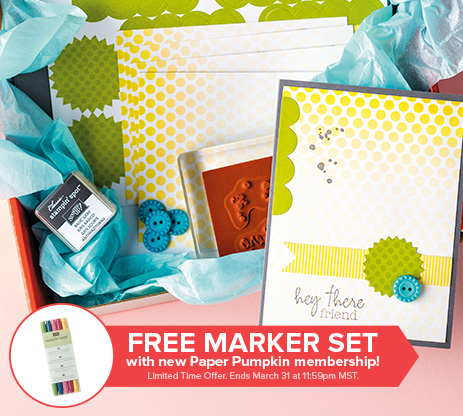 PLUS - there are NEW Clearance Rack items that can be added onto ANY of your orders!
Make sure you check out all the great deals on my SU! website! Catalogs are on my SU! website and my blog!
Thanks for stopping by! Happy Stampin'! Dianna